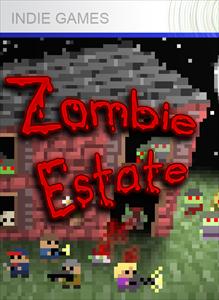 Survive 25 waves of zombies in this retro-3D shooter! 30 characters to choose from, over 20 weapons at your disposal, and thousands of zombies to kill! Play with up to 4 players in this action-packed adventure! Can you survive in Zombie Estate!?
This game is a blast, especially for the price. There are 30 "different" characters but really they are just skins which is the case for most 8-bit games, nevertheless, this never hindered gameplay and in my personal opinion skins are still kool. The guns, however, are another story. You have 4 ammo types: assault, explosive, shells and heavy ammunition, each gun uses one of these types of ammo, this incorporates quite well in adding an element of strategy. Enemies drop ammo, cash or health when you kill them.
It starts off easy, and each wave introduces new types of zombies and adds them to the ones you've seen already in the following waves. It gets pretty intense in the later levels, with literally hundreds of zombies spawning in the first few seconds of the round. One cool thing is the timer; you basically have a set time to finish buying equipment at the store within the "Estate", if you're ready before the time runs(which you should), you can press the back button to have the zombies come early, but if you aren't ready by the time the timer runs out they will start spawning whether you are ready or not.
Some of the later guns are quite convenient although certain are designed too look silly and parody like, they can still be quite powerful , some are "tower defense"-esque, there are land mines and the rocket launcher continues to dominate crowds well into the last stages.
It is 2d sprites in a 3d-overhead view. One nice addition is an aiming reticle that makes it much clearer in what direction you are facing without wasting ammo beforehand. Speaking of which, as a zombie standby, you have a pistol with unlimited ammo. There is a good variety of enemies and when combined they can get pretty tricky.
All in all, for a buck(1$ or 80MSP) it's a must have for any classic gamer or zombie lover out there, it's a game exclusive on Xbox 360.
Here's a preview of the content in the game:
---
Permissions in this forum:
You
cannot
reply to topics in this forum